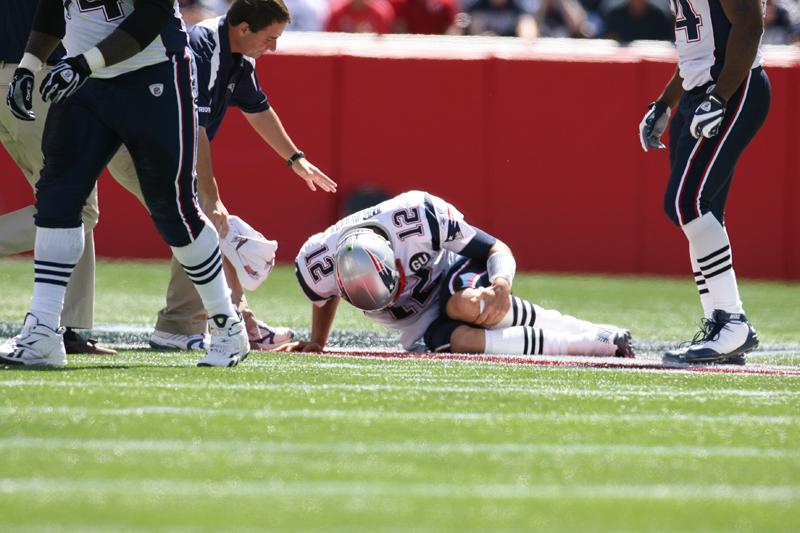 I beat Connect Four in one move ...


That's pretty much sums up what homeboy from the Chiefs did to The Golden Boy, Tom Brady. What will the NFL do without their "Golden Boy"? The same thing it's been doing. What will those kids with their fantasy football teams do now that their hopeful QB would bring them into a run? Kill themselves.
I enjoyed every bit of that game. Although I don't like seeing people injured, I noted that Karma is indeed a bitch when it wants to show up. Now the Patriots are led behind their back-up, Matt Cassel at QB. Will he step it up a notch, or continue to play "manager". The season is of course still young, so for those Patriot fans, you better pray your coach has some tricks up his sleeve for the next fifteen weeks.


I know my boy MX over at
Two-Shots
is pretty much anticipating the game tommorow night between the Packs and Vikings ... I'm with the Vikes, he's a "Packs" fan. So I can't wait to see that game, it'll be hard and tough. The Vikes will win though ...
Unlike today, MNF should be more interesting. The Chargers/Panthers and Saints/Bucs seemed to be the only "heart-clinching" games today. Let me not forget the Dolphins/Jets game ... they had me not blinking one bit, Favre still making "praying" passes and his WR corp being lucky to catch them.

Right now, pretty much in disbelief how Indy is being beat up in this damn game. You know, you usually see Peyton wingin' it out in the air, but goddamn ... it's not right in the debut of their brand new home. Shits just not going right. Peyton, being sacked and pretty much challenged by the Chicago's D. The Receiver Corp not catching the bombs' they'd usually catch. A 'ghey' rematch ... I call a fluke.


But yeah ... I think I'm going to bed, fucked up Sunday ... most of my picks lost. Not cool!

- B.J