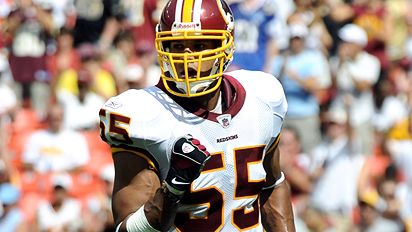 Okay, yes I've been blogging like a sonofabitch right now, three posts already? Within a half-hour. Goddammit, Jay. Yeash, I know ...
This week, I'm going to shed a tear, due to my Washington Redskins being without the "great" Jason Taylor on the line, therefor not only scheduled to not be in the line-up this Sunday, against the 'hated' Cowgirls ... but to end his game streak. Atleast he's gone to do this now, as it would've not looked good in the future ... Here's what had happened....
"Taylor was kicked in the shin in Sunday's game against the 

Arizona Cardinals

. A Redskins source told ESPN senior NFL analyst Chris Mortensen that Taylor's shin "blew up like a balloon." Taylor was in excruciating pain Monday morning and doctors became concerned he could suffer nerve damage."
The most unlikely shit you never want to happen, happens anyways. It's crazy. If Jason didn't decide to go in for this procedure/surgery, well he would've died, so the doctors said to the reporter. So atleast the shit is being cured right now, and hopefully he'll be back out their, making "burgers" out of the QB's.
I'll be back on tommorow to post my Week #4 Predix, I know I missed last week. Wasn't feeling to good. But yeah, expect more from me tommorow. Holla Atcha' Boy!